Virtual reality, in it's current form, is useful for particular purposes. The idea that everyone will live their lives in VR is a long way from happening, if it ever does.
Areas where VR is useful are entertainment and gaming, education and training, marketing and to a lesser extent, social activities.
VR games are the biggest market at the moment. This is because people that like computer games are already comfortable in virtual worlds and would like to become more immersed in them. VR can provide intense, adrenaline fuelled experiences that a flat screen can't match.
Virtual reality is a natural fit for education. The ability to transport people to places and situations that would otherwise be out of reach means VR can be used to expand horizons and build skills. I believe that this is the most positive use of VR technology at the moment. It is engaging and effective.
There are also many possibilities in marketing and advertising. The immersive nature of the medium means it is a very powerful tool for communication of anything.
As with all the increasingly powerful technologies that are dominating our lives, there are many dystopian possibilities with VR. If someone controls your experience in VR they can literally shape your reality (I'm looking at you, Mark Zuckerberg) and so control your beliefs and attitudes. It's a propaganda ministers dream.
I have focussed a large part of my efforts with VR on trying to grow the educational uses. To this end, I've designed and built classroom kits for Google Expeditions, made videos about the educational uses of VR ( https://vimeo.com/377278473 ), done many demonstrations of the possibilities at schools and universities and even coded a multi-user virtual reality lecture hall system in the two years after Covid lockdowns started. This last project, Epikosm, has been put on hold while I pay attention to making a living instead of pursuing a philanthropic dream. I only expect to revive it if I get some real interest from people in a position to provide resources to grow it.
I do still believe that education is a massively important use of virtual reality and so will continue to find ways to grow the use of VR in education in Africa. The ability to simulate resources such as laboratories and workshops and to transport students to places they could not otherwise experience are both massively valuable.
Richard McAdam
Owner and developer
The Virtual Space
The Virtual Space projects
Multi-user multi-function multi-platform VR spaces for education
(March 2020 to March 2022)
Epikosm is a multi-user virtual reality lecture hall environment built on top of open source platforms. The teacher has a full PC VR system and various tools such as a whiteboard, slide shows and panorama tours available. The students log in via VR, web browser or phone and are able to interact with the teacher and each other.
I shut down this project at the end of two years of development as it had not yet generated enough interest among potential customers to be a viable business.
Goggles VR – virtual reality glasses (2018 to present)
The main project in 2018 was designing our Goggles VR virtual reality glasses, then implementing the manufacturing of these glasses.
Goggles VR are phone based VR glasses compatible with Google Cardboard but made of much tougher ABS plastic. These VR glasses are designed for simplicity, good user experience, toughness and easy branding.
Goggles VR virtual reality glasses are now available for purchase
Teleport VR Systems (2019 to present)
By 2019 we were doing a lot of VR for events. COVID-19 lockdown effectively destroyed this business but before that happened we had a team of five people with four VR systems, providing exciting VR experiences at events all over, both within South Africa and in neighbouring countries.
We developed our PC based systems into the Teleport VR systems. These are self contained, arcade style machines with everything needed for an event contained within the machine. The machines have TV sets and audio on board, so passers by and the audience can see what the person in VR is experiencing.
Pioneer VR Education Kit for Google Expeditions (2017 to 2019)
In 2017 we designed and built the Pioneer VR Education Kit for use in the classroom with Google Expeditions. The teacher controls the experience and each kid gets a headset to view the VR content.
The kits come with five Android phones, five VR headsets, an Android tablet to control the VR experience, a charger for the devices and detailed instructions.
A Whole New Ball Game (2017)
While at the Imaginarium my shop assistant Pierre Beukes and I built a virtual reality game for the HTC Vive called "A Whole New Ball Game". Pierre hand painted all the 3-dimensional assets for the game in the VR painting app, Tilt Brush.
27 Boxes is built from shipping containers. This game was mapped onto the shape of our shop container, so that if you ran into a wall in the game you ran into a physical wall in the shop.
We created all the sounds for the game manually by doing things like ringing bells and popping balloons. We ran some competitions at the shop with this game and a lot of fun was had by all :-)
The Imaginarium (2017)
At the start of 2017 I opened a VR Arcade using the Vive systems. We rented a shop at 27 Boxes in Melville and called it The Imaginarium. We ran the arcade for 9 months, from January to September 2017. It didn't make money but we had a lot of fun and learned how people see and experience VR and what makes the experience fun. We also got to know the Vive systems really well.
The FrankenVive (2016)
On August 5th 2016 the HTC Vive tracked virtual reality system was released to the consumer. These systems are on another level entirely, they operate in a room scale space and you can move around and interact with the virtual world within that space.
As the Vive was both expensive and unobtainable at the time we hacked together a FrankenVive using a Cardboard headset as the display with content for the HTC Vive being streamed to it from a PC. This Heath Robinson contraption used a leap motion controller to detect the users hands and emulate the Vive controllers. It worked, after a fashion, but it was way short of the real thing. Still, the Frankenvive was a LOT of fun :-D
360° video wall (2016)
The 360° video wall uses custom built Android apps to split and simultaneously play a 360° VR video on 7 TVs in a circle around the viewer. Although this system worked well, we found that people were not very impressed with what it was doing so we shut the project down.
Android 360° VR video player with remote control (2015 to 2018)
This 360° VR video player is designed for use at events. It consists of two custom built Android apps, one is the VR video player and the other is the remote control that simultaneously controls multiple video players. The player works with both monoscopic and stereoscopic 360° video. The videos are preloaded on the phones to be used, so there are no streaming delays or loss of quality. We used this system at a few events but it did not generate enough business to justify the work needed to keep it going, so we shut the project down at the end of 2018.
Custom VR system builds (2016 to present)
We have supplied various custom built VR systems over the years, both single user and multi user installations. These include systems at Sun City, University of Johannesburg, Baxter Pharmaceuticals and others. If you are interested in putting together a custom VR lab, studio or other installation please contact me, Richard, at 083 733 5133 to discuss the project.
The Virtual Space team of creative, dedicated and talented people have made the projects listed here possible.
The credit belongs to them and I am eternally grateful – Richard McAdam
Kessuree Srisroy for tremendous creative input
Carmen Swart for great art and technical troubleshooting
Connor Andrews for amazing 3D graphics and video production
Alisa Ndlovu for tireless efforts in production and quality control
Gavin Stein for logistics, design and manufacturing
Dr. Timothy Laseinde for academic and research support
Dr. Olawole Kuti for academic and research support
Pierre Beukes for art and logistics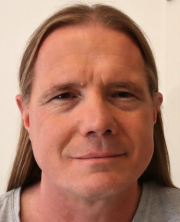 My name is Richard McAdam, owner of and lead designer for The Virtual Space virtual reality systems.
Using computers for creating art and programming has been my passion for more than 35 years. I have also had a lifelong fascination with 3D technologies such as holograms, lenticular 3D, polarised 3D movies, LCD shutter displays and so on.
In 2014 I bought one of the first Google Cardboard VR viewers and started playing with it. As the year turned over into 2015, I came to a decision. I had been making my living as a web developer and internet marketer since 1995 and it was no longer fun. So, I pivoted to the new business of virtual reality.
It's been a wild ride!