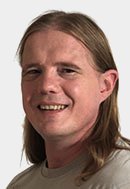 My name is Richard McAdam. I am the owner of and lead designer for The Virtual Space.
Creating using technology and computers has been my passion for my entire life. I have been programming for more than 30 years as well as using computers as the tools for artistic creation for most of that time. I have also had a lifelong fascination with 3D rendering and display technologies such as holograms, lenticular 3D, polarised 3D movies, LCD shutter displays and so on.
In 2014 I bought one of the first Google Cardboard VR viewers and started playing with it. As the year turned over into 2015, I came to a decision. I had been making my living as a web developer and internet marketer since 1995 and it was no longer fun. So, I pivoted to the new business of virtual reality.
It's been a wild ride!
None of the projects listed here would have been possible without the help of The Virtual Space team of dedicated and talented people who have supported me every step of the way. The credit belongs to them and I am eternally grateful.
Here are some of the things we have made:
Android 360° VR video player with remote control
This 360° video player is designed for use at events. The player works with both monoscopic and stereoscopic 360° video. The videos are preloaded on the phones to be used, so there are no streaming delays or loss of quality.
360° video wall
The 360° video wall puts the 360° video on 7 TVs in a circle around the viewer, using much of the same code as the Android VR video player. Although this system worked well, we found that people were not very impressed with what it was doing so we shut the project down.
The FrankenVive
On August 5th 2016 the HTC Vive tracked virtual reality system was released to the consumer. These systems are on another level entirely, they operate in a room scale space and you can move around and interact with the virtual world within that space.
As the Vive was both expensive and unobtainable at the time we hacked together a FrankenVive using a Cardboard headset as the display with content for the HTC Vive being streamed to it from a PC. This Heath Robinson contraption used a leap motion controller to detect the users hands and emulate the Vive controllers. It worked, after a fashion, but it was way short of the real thing. Still, the Frankenvive was a LOT of fun :-D
Google South Africa then brought in a real HTC Vive and loaned it to me to try out. I was completely blown away and bought two of them in short succession. To date these are still the most immersive VR systems available, creating a compelling illusion that can easily make you forget you are in a virtual world. On one occasion I caught myself trying to close a virtual filing cabinet with my foot, which is not visible in the virtual world. We have had people try to lean on virtual tables because they forgot they were in a virtual world.
Our HTC Vive systems are available for hire for events.
Imaginarium
The next project was a VR Arcade using the Vive systems. We rented a shop at 27 Boxes in Melville and called it The Virtual Space Imaginarium. We ran the arcade there for 9 months, from January to September 2017. It didn't make money but we did learn a lot about how people see and experience VR and about what makes the experience fun. We also got to know the Vive systems really well.
A Whole New Ball Game
While at the Imaginarium we built a game for the HTC Vive called "A Whole New Ball Game". My shop assistant Pierre Beukes hand painted all the 3-dimensional assets for the game in the VR painting app, Tilt Brush. We created all the sounds for the game manually by doing things like ringing bells and popping balloons. I then coded it all together into a playable game that is like a cross between squash and brickout. There is some video of gameplay at the bottom of this page.
Virtual Reality Education Kit for Google Expeditions
Our next project was the Pioneer VR Education Kit for use in the classroom with Google Expeditions. The teacher controls the experience and the kids each get a headset to view the VR content.
VR and education are a natural fit. We believe that virtual reality is going to offer a range of experiences and knowledge to many people that they would not be able to get any other way. The impact of VR on education will be as big as the impact of the internet has been. The VR Explorer Kit is an early step towards affordable VR education for all. If you believe you can help to grow this, please contact me to discuss it.
On Your Face VR Goggles
This project is a phone based headset that is 100% compatible with the Google Cardboard platform but made of the much more robust ABS plastic. This headset is designed for branding, simplicity in use, good user experience, toughness and also to be compatible with the 6 degrees of freedom tracked VR that will soon be available on smartphones.
Our On Your Face VR Goggles are now in production and available in both branded and unbranded versions, exclusive to The Virtual Space!
Richard McAdam
Owner of The Virtual Space